As climate change causes an increase in frequency and severity of natural disasters such as bushfires and floods, forward-thinking Australian businesses will put climate-related risk management at the top of their agendas. CoreLogic's Dr Pierre Wiart writes that the businesses with a sophisticated way of quantifying hazards and risk exposure – right down to the individual property level – stand to gain a considerable advantage.
If you work in financial services, insurance or government, chances are you understand the critical role that a changing climate plays in business, to our customers and the community - both now and into the future. Phenomena like rising sea levels, coastal erosion, bushfires and floods present a major risk, with potential impacts ranging from reduced asset value and credit losses to financial losses due to damaged property and infrastructure.
While no one knows exactly what tomorrow will bring, access to the right data can provide a strong foundation for informed decision-making in uncertain times. Business leaders and decision makers, for example, may be better equipped to assess climate hazards when they have data that drills down to the level of individual properties. For the first time, through CoreLogic's strategic partnership with global reinsurer Munich Re, these types of game-changing insights are available in Australia and New Zealand. Read on to discover an example of the latest climate hazard and risk exposure insights for Victoria, and how having this information could benefit your business and customers.
Quantifying Victoria's climate hazard and risk exposure
Leveraging our partnership with Munich Re, CoreLogic conducted a deep dive into Victoria's climate hazard and risk exposure. We analysed 2.5 million residential properties to assess their individual climate hazard ratings and risk scenario outcomes.
The research modelled a range of climate risk scenarios and outlined Victoria's hazard profile and overall risk level for properties exposed to bushfire, drought, precipitation and sea level rise. It quantified the value and volume of properties exposed to different climate hazards and assigned standardised risk ratings.
Key insights
Like most Australian states and territories, Victoria's diverse landscape is vulnerable to severe weather events such as bushfires, floods and coastal erosion. Businesses have long factored these events into their risk assessments at an aggregate level only. Now they have the power to go deeper.
CoreLogic is supporting banks and insurance companies to advance their understanding of the potential impact of climate change on the property market by creating a concurrent view of natural hazards and estimated property values. The hazards can be mapped and - as I'll discuss – can allow for targeted approaches to risk management and customer education.
Climate change hazards in Victoria
Almost 9% of Victorian households are at very high risk of climate hazards, with another 8% at high risk. This is equivalent to a combined estimated property value of $277 billion at risk. Bushfires and river floods pose the greatest threat for properties with a high or very high risk of exposure to climate hazards. The great majority of Victorian households, around 80%, are at medium risk, whilst only a fraction of properties present with low or no risk.
Climate hazards by type
Bushfire hazard is significant throughout Victoria, with high-risk areas in Melbourne's outskirts, particularly to the north of the city.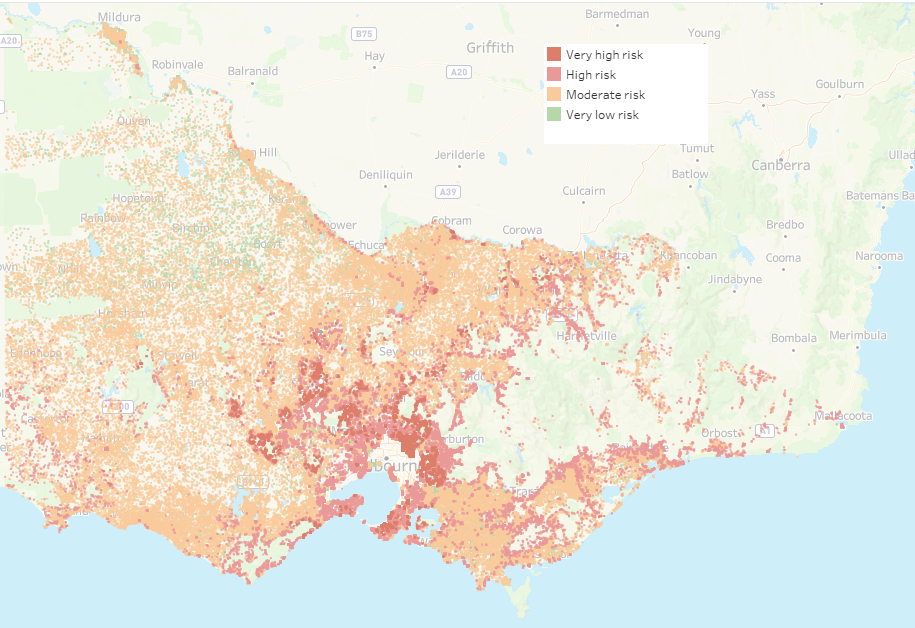 Figure 1. Bushfire hazard ratings across Victoria.
While most parts of Victoria face a moderate to high bushfire risk, the risk is highest around Melbourne's outskirts. This includes:
Northeast of Melbourne between Melbourne and the Yarra Ranges
From Ballarat to the border of the Lerderderg and Wombat State Parks
The Great Otway National Park
There is a significant flood risk in areas surrounding the Murray River and Yarra River, though future flood projections are hard to evaluate.
Flood events also pose a risk across Victoria. The Murray River, bordering the state's north, presents a flood risk for regions from Swan Hill to Echuca and Shepparton. The flat landscape of Melbourne and its surrounds creates a flood risk from the Yarra River (as well as its Maribyrnong and Werribee Rivers). However, accurate future flood projections can be tricky due to conflicting forces at play, namely the relative impacts of drought and precipitation.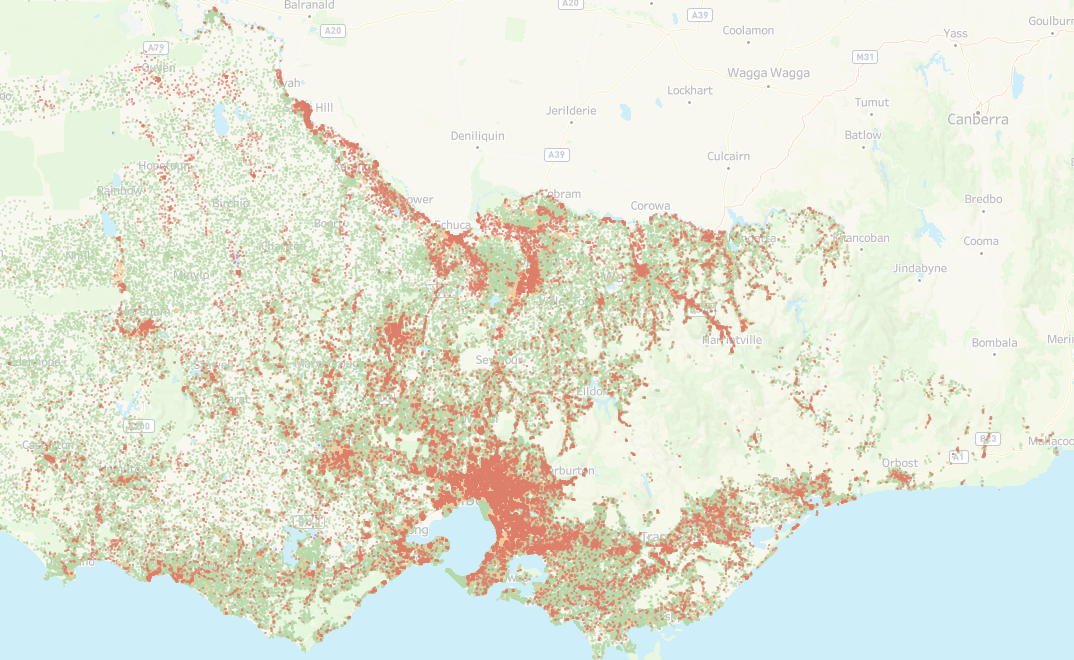 Figure 2. Projected flood risk in an extreme (RCP 8.5 2100) future scenario
Sea level rise will exacerbate coastal erosion across many parts of the coast.
Victoria is already feeling the effects of coastal erosion, with the Victorian Government providing funding to tackle the problem at beaches such as Apollo Bay, Lakes Entrance and Mallacoota. Our research shows that rising sea levels are likely to exacerbate coastal erosion in many parts of the state.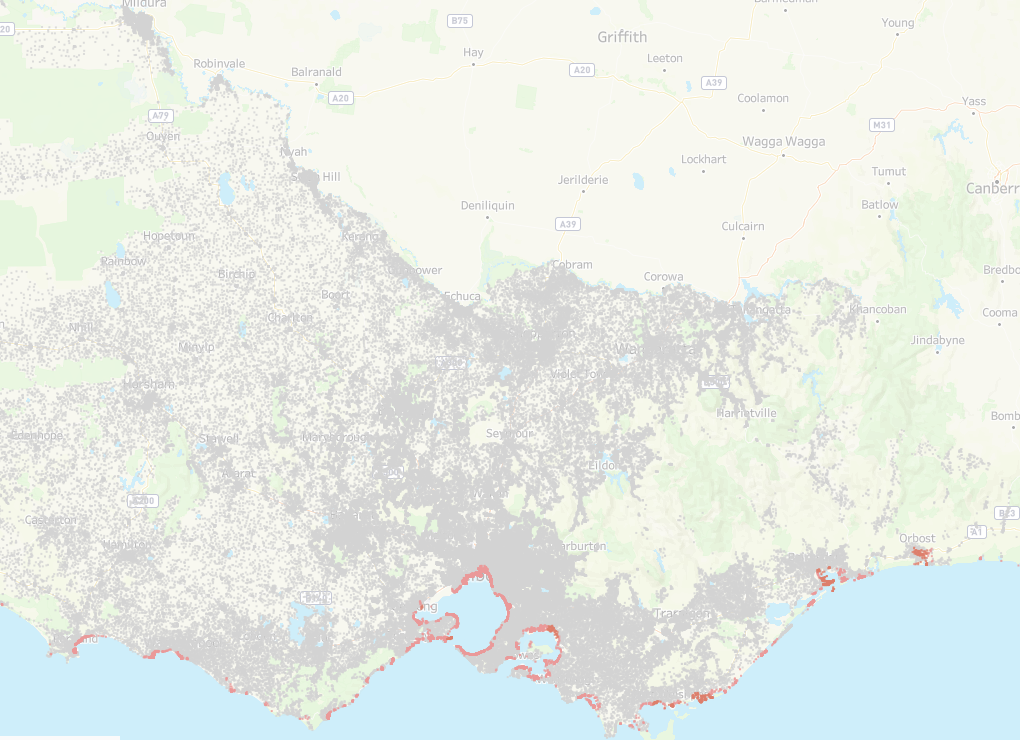 Figure 3. Rising sea levels are expected to affect many parts of Victoria under a RCP 8.5 2100 future scenario.
Leveraging the power and value of predictive climate data
CoreLogic's analysis provides a standardised assessment of future climate change risk that could affect individual properties across Victoria. Future scenarios indicate that both bushfire and flood risks are simultaneously likely to be on the rise across the regions due to drier environments but also increasing precipitation. Armed with this information, businesses can employ a sophisticated approach to quantifying climate change impact, enhancing risk management and making informed decisions – each of which will also benefit customers.
Benefits for banks: The advantages for lenders are numerous. Lenders may use them to identify natural hazard risk concentrations at an early stage, recognise portfolio level exposures down to the single property level, meet internal risk appetite requirements, and support their external regulatory requirements such as TCFD's disclosure. This information can also equip banks and lenders to have conversations with their customers beyond the property's value, including incidental knowledge about a property such as its exposure to different climate hazards and the importance of adequate protection.
Benefits for insurers: While insurance companies are experts in assessing and predicting risk, detailed climate change hazard data provides another tool to contribute to more comprehensive risk models. It acts as an evidence base to help educate customers about the climate-related pros and cons of their financial and investment decisions.
Benefits for government: Being able to pinpoint areas that are more likely to be affected by particular climate events, such as coastal erosion, can assist government to prioritise funding based on the predictions of greatest need and highest level of risk.
Benefits for investors: Understanding the value of, and potential risks to, their property portfolio is critical for investors. It informs financial decisions and is important for helping to comply with regulatory requirements. Informative and detailed climate hazard data supports investors in assessing and quantifying the potential impact of climate change on their portfolio.
Where to from here?
While this article uses Victoria as a case study, CoreLogic and Munich Re can produce similar modelling for any region in Australia and New Zealand. Our partnership combines Munich Re's market-leading climate analytical capabilities and CoreLogic's comprehensive property data coverage and connection to banking, valuation, insurance and real estate systems. Together, they provide an unprecedented view of the risks and impacts of climate related events to home owners, lenders, brokers, insurers, government, investors and property professionals to help them proactively prepare for climate change risks.
To find out more about using data to help identify and manage climate change risks, make an appointment today to speak to CoreLogic about its Climate Risk Solution.
---
© Copyright 2021. RP Data Pty Ltd trading as CoreLogic Asia Pacific (CoreLogic) and its licensors are the sole and exclusive owners of all rights, title and interest (including intellectual property rights) subsisting in this publication, including any data, analytics, statistics and other information contained in this publication. All rights reserved.
The data and information (including commentary) provided in this publication (together,Information) is of a general nature and should not be construed as specific advice or relied upon in lieu of appropriate professional advice.
While CoreLogic uses commercially reasonable efforts to ensure the Information is current, CoreLogic does not warrant the accuracy, currency or completeness of the Information and to the full extent permitted by law excludes all loss or damage howsoever arising (including through negligence) in connection with the Information.
About Munich Re:
Munich Re is one of the world's leading providers of reinsurance, primary insurance and insurance-related risk solutions. The group consists of the reinsurance and ERGO business segments, as well as the asset management company MEAG. Munich Re is globally active and operates in all lines of the insurance business. Since it was founded in 1880, Munich Re has been known for its unrivalled risk-related expertise and its sound financial position. It offers customers financial protection when faced with exceptional levels of damage – from the 1906 San Francisco earthquake through to the 2019 Pacific typhoon season. Munich Re possesses outstanding innovative strength, which enables it to also provide coverage for extraordinary risks such as rocket launches, renewable energies, cyberattacks, or pandemics. The company is playing a key role in driving forward the digital transformation of the insurance industry, and in doing so has further expanded its ability to assess risks and the range of services that it offers. Its tailor-made solutions and close proximity to its customers make Munich Re one of the world's most sought-after risk partners for businesses, institutions, and private
---