With the exception of Perth, auction activity was down across all of the capital cities this week, with 1,676 auctions held across the combined capitals.
Down 41.8% from the week prior (2,879), this week's auction activity is still significantly above the activity seen over the last federal election week (930 – week ending 19th May 2019). The combined capitals preliminary clearance rate slipped to its lowest level so far this year, with 62.9% of the 1,343 results collected so far returning a positive result. This week's result is down 1.7 percentage points from last week's preliminary result of 64.6% which was revised to 60.1% at final figures. This time last year 75.6% of the 2,838 auctions held were successful.
Capital City Auction Statistics (Preliminary)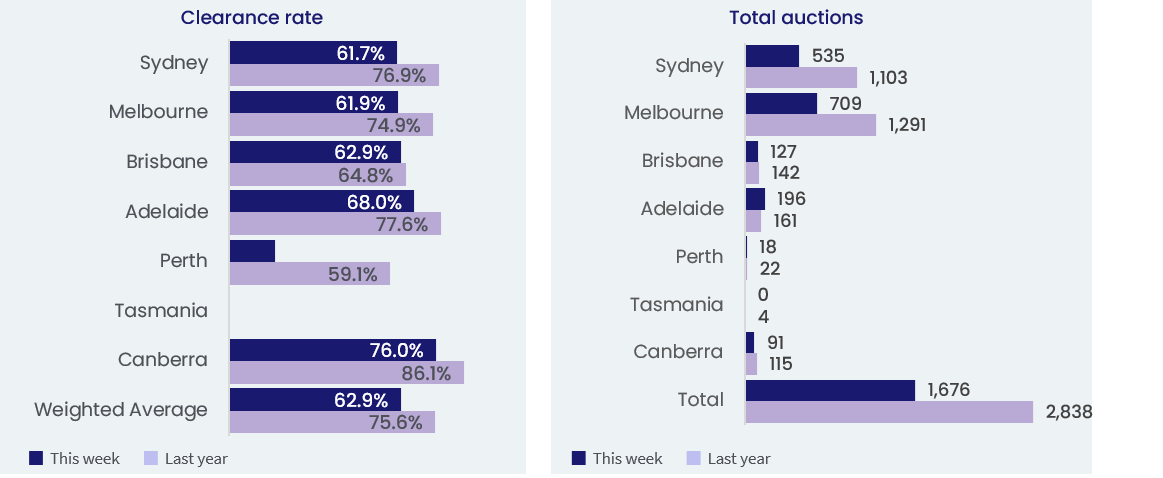 In Melbourne, 709 homes went under the hammer this week, down 45.1% from both the previous week and this time last year, with 1,291 auctions held both weeks. With 590 results collected so far, this week's preliminary clearance rate (61.9%) overtook the week prior as Melbourne's lowest preliminary clearance rate of the year to date. Last week's preliminary clearance rate of 64.0% was revised down to 60.5% at final numbers, while 74.9% of auctions held this time last year were successful.
Weekly clearance rate, combined capital cities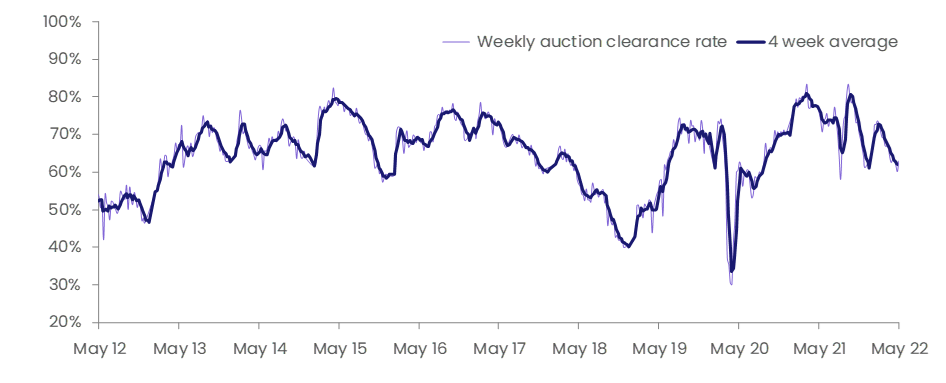 Its quietest week since the Easter long weekend, Sydney hosted 535 auctions this week, down 43.4% from the 946 held the week prior. With 449 results collected so far, Sydney's preliminary clearance rate rose, with 61.7% of auction reporting a successful result. This week's result is up 60 basis points from the week prior when a preliminary clearance rate of 61.1%, later revised to 53.8%, was recorded. Despite the small lift in clearance rates, Sydney's withdrawal rate (21.4%) continued to hover around the 20% mark for the fifth week in a row. This time last year 76.9% of the 1,103 auctions held in Sydney were successful.
Capital City Auction Statistics (Preliminary)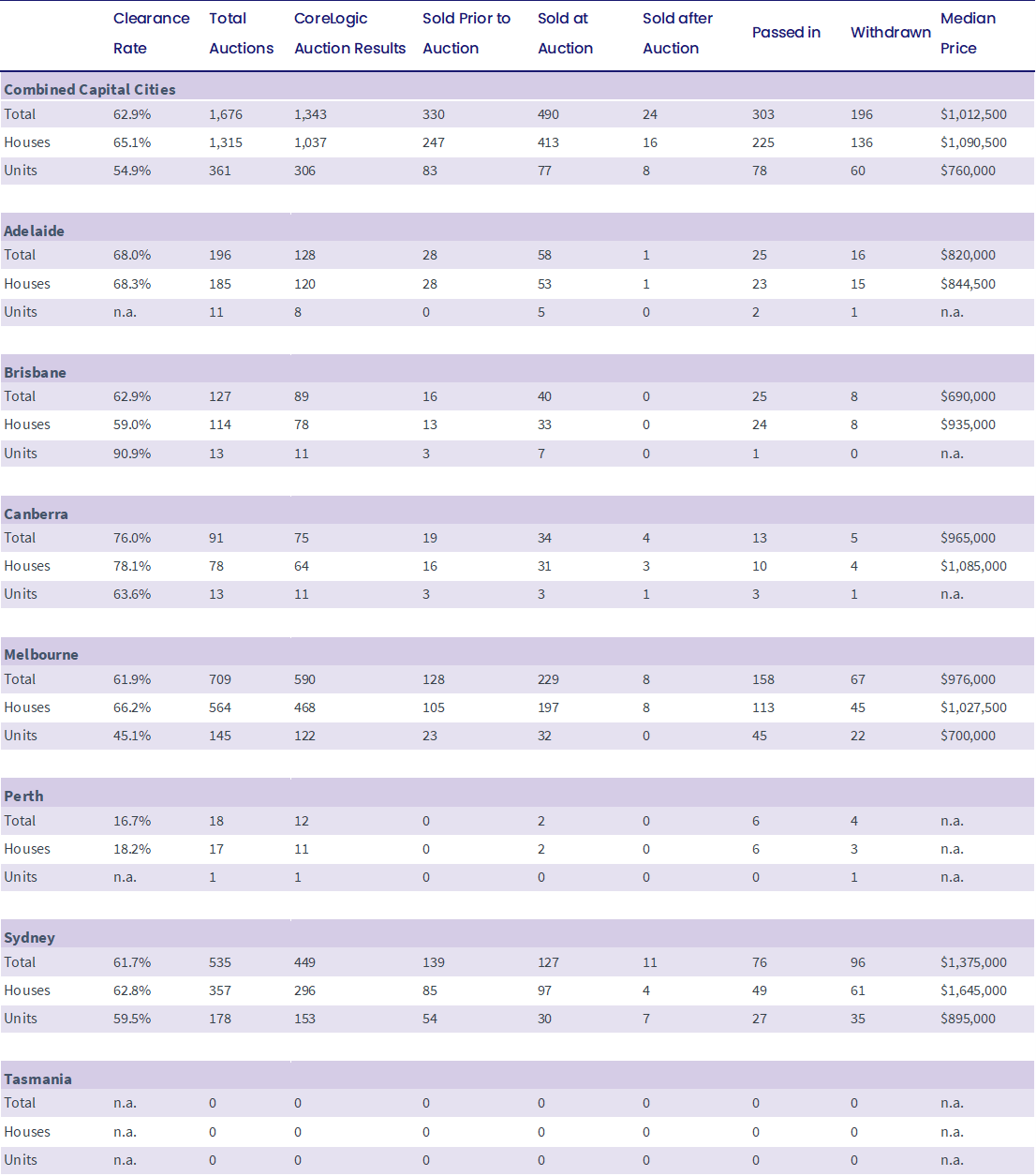 Across the smaller capitals, Canberra reported the highest clearance rate, remaining steady at 76.0% followed by Adelaide (68.0%) and Brisbane (62.9%). Adelaide hosted the busiest auction market amongst the smaller capitals this week, taking 196 homes to auction, followed by Brisbane (127) and Canberra (91). Of the twelve auction results collected in Perth so far, three were successful, while no auctions were held in Tasmania this week.
Sub-region auction statistics (preliminary)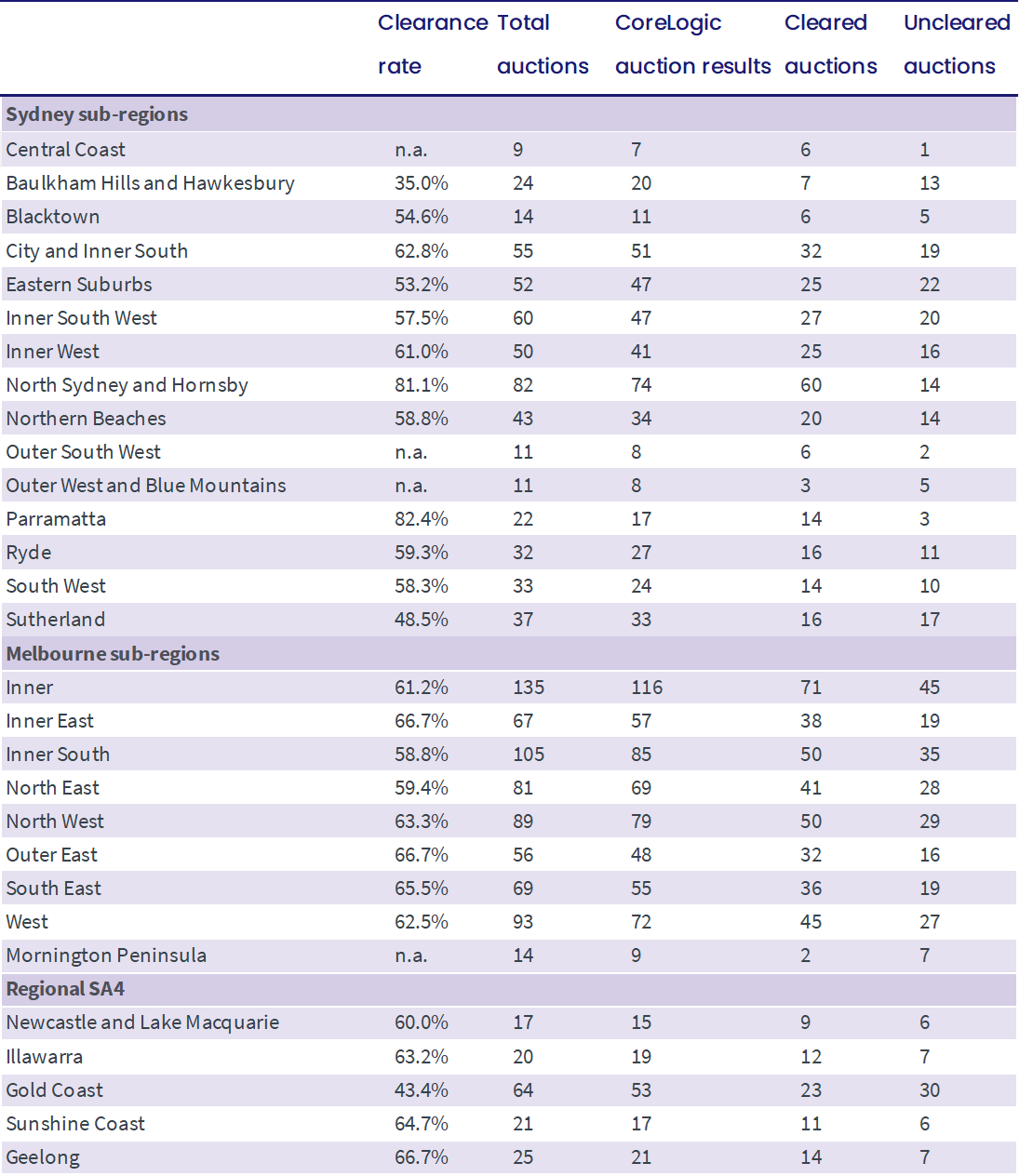 More than 3,000 auctions are scheduled for next week at the moment; the highest level of activity since the week prior to Easter.
---