Super Saturday event sees 3,500+ homes scheduled for auction
After an early start to the spring selling season, a 'super Saturday' event is set to see capital city auction activity skyrocket this week (3,522), with Sydney, Melbourne, Brisbane and Canberra all expecting their busiest auction weeks of the year-to-date. With 2,883 homes set to go under the hammer this Saturday and an additional 639 auctions scheduled throughout the rest of the week, this week's expected auction volumes are set to exceed 3,000 for the first time since late May 2022 (3,226) and are the highest since mid-April 2022 (4,035). While still well below the record auction volumes recorded in late 2021, this week's numbers are up 43.0% compared to the 2,463 held last week and 83.3% higher than this time last year (1,921).
While auction numbers typically rise throughout spring before reaching a peak in late November to early December, this year's spring selling season got off to an early start. Weekly auction numbers found a floor in early July (1,428) before trending on average 7.8% higher week-on-week between mid-July and October-to-date. This is in contrast to last year, when rising interest rates, falling property values, and uncertain economic conditions saw a more muted upward trend in spring auction numbers, with weekly increases averaging 4.7%.
As auction activity has trended higher, the combined capital clearance rate remained relatively stable around the 65% mark (averaging 65.7% since early July), suggesting that the additional supply has been met with a composite rise in demand. While down from the average of 70.5% recorded over May, last week's clearance rate of 65.7% was 1.7 percentage points above the five-year average (64.0%). This time last year, weaker selling conditions saw just 58.8% of auctions report a successful result.
While this week will likely be the peak in this year's spring selling season, an early view of auction numbers over the coming fortnight suggests auction activity will remain elevated as we approach the end of spring.
Traditionally the largest auction market, Melbourne is expecting 1,746 homes to go to auction this week, up 53.3% from last week (1,029) and almost triple the number seen this time last year (602). This week is set to be Melbourne's busiest auction week since before Easter 2022 (1,795), with auction numbers set to hold above the 1,000 mark for the eighth time in 10 weeks. Melbourne's Inner sub region is set to host the most auctions, with 358 homes scheduled to go under the hammer, followed by Melbourne's Inner South and Inner East regions with 273 and 242 auctions, respectively.
Auction activity across Sydney is set to exceed 1,000 for just the third time this year, with 1,179 homes set to go under the hammer this week. With 182 homes scheduled for auction, the North Sydney and Hornsby sub region is expected to be Sydney's busiest market this week, followed by the City and Inner South (128), Inner South West (118) and Eastern regions (128). Last week, Sydney hosted -24.7% fewer auctions (888), while this time last year, 751 homes went under the hammer.
Across the smaller capitals, auction activity is set to rise 36.9% this week, with Brisbane and Canberra both expecting their busiest auction weeks of the year-to-date. Excluding Sydney and Melbourne, Brisbane is expecting the busiest week among the capitals, with 241 homes set to go under the hammer, up 43.5% week-on-week and 9.0% higher than this time last year. This is followed by Adelaide (174), up 1.8%, while Canberra is set to see auction volumes more than double from last week (80), with 165 auctions currently scheduled across the city. Perth is the only capital expecting fewer auctions this week, with 14 auctions scheduled, down from 16 last week, while Tasmania currently has three homes scheduled for auction.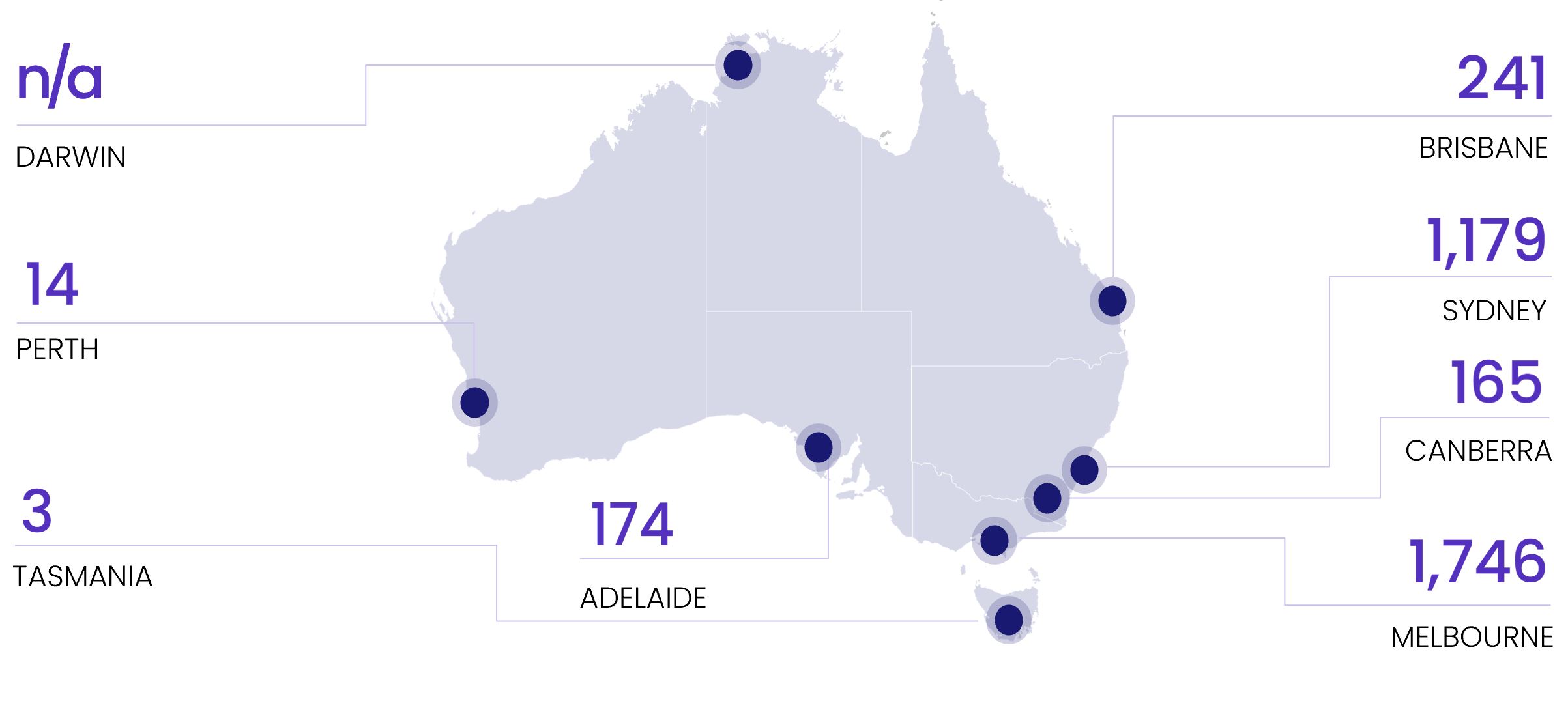 The complete Auction Market Preview for the week ending 29 October 2023 can be downloaded below
---